This is last article of series of [imported and exported food safety] control certificate at customs port for imported food, in this articles, Foodmate will introduce Certificate of formula registration for infant formula milk powder and other certificate like
Certificate issued by foreign official agency for imported food
. So, let's get start.
Certificate of formula registration for infant formula milk powder
Infant formula milk powder refers to milk (or goat's milk) and its processed products as the main raw materials, adding an appropriate amount of vitamins, minerals and other accessories, processed products for infants. Including infant formula, older infant formula, young children formula.
Legislative authority:
Food Safety Act of People's Republic of China, Administrative measures for formula registration of infant formula milk powder products.
Application conditions:
The applicant shall be an enterprise that intends to produce and sell infant formula milk powder within the territory of the People's Republic of China or an overseas enterprise that intends to export infant formula milk powder to the People's Republic of China.
Application documents:
1. Application form for registration of infant formula;
2. Certificate of applicant's qualification;
3. Quality and safety standards of raw and auxiliary materials;
4. Product formula;
5. Product formula R & D demonstration report;
6. Production process description;
7. Product inspection report;
8. Certification materials for proving capability of R & D, production and inspection ;
9. Explanatory and supporting materials for label, specification samples and claimed on the label.
Handling Procedures:



Name and sample:
Certificate of formula registration for infant formula milk powder, valid for 5 years.
Source and download website of information:
http://zwfw.samr.gov.cn/wsbs/sp/yyezc/#
(Source: State Administration for Market Regulation)
Certificate issued by foreign official agency for imported food

(Such as certificate of origin, radioactive test certificate and the certificate of radioactivity test and the certificate of origin issued by the official organization of Japan)
1. Certificate of origin:
A written document issued by the exporting country (region) in accordance with the rules of origin and relevant requirements, clearly indicating that the goods listed in the certificate originated in a specific country (region).
——Regulations of the people's Republic of China on the origin of import and export goods
2. In order to ensure the quality and safety of the food and agricultural products exported from Japan to China, the enterprises should provide the certificate of qualified radioactive substance test and the certificate of origin issued by the Japanese government when applying for the import of food, edible agricultural products and feed from Japan (except the 10 prefectures prohibited from import).
Sample of origin certificate of food imported from Japan to China:
The origin of imported food from Japan shall not come from 10 prefectures including Fukushima, qunma, Tochigi, Ibaraki, Miyagi, Niigata, Nagano, Qiyu, Tokyo and Chiba.
The product and HS code that should be issued with the qualification certificate of radioactive substance testing are as follows:
Qualified samples of radioactive substances: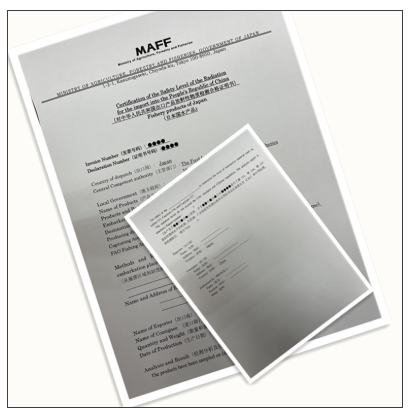 How to declare to the Customs after obtaining above certificate?
Currently, the General Administration of customs, State Administration for Market Regulation and other relevant departments have established a network verification, notification and cooperation mechanism for the above certificate information, except for the certificates issued by foreign official agencies of imported food. After obtaining the relevant certificates according to the procedure, enterprises can upload the relevant information to "China international trade single window" for direct declaration as required." The "single window" system will automatically compare the certificate information. If it is found that the declaration information does not meet the requirements of certificate filling, the system will prompt that the comparison fails.
Hope you've enjoyed this series of articles.